In Hearts Hearts fulminant new single 'Ikarus (I Feel a Change)' the band hits a surprisingly political tone. The song touches with ease and euphoria. Both in sound as in the immediacy of the message: While arrogance and ignorance overheats the system, it is foremost the bravery of a younger generation that allows hope for a radically changed future.
'In the tale of Icarus we see a drastic warning against our everyday behaviour: Pride and recklessness let Ikarus exceed his own limits which in the end costs his life. That the sun both symbolises his greatest desire, as well as his downfall, should make us reflect.'
The video to 'Ikarus (I Feel a Change)' turns the medium into the message. The thermal image works as an anchor point intermixing the
band's performance with political real-life. Its aesthetics work can both be considered as an artistict form of abstraction but also remind us of the scientific footage we are being confronted with on a daily basis, namely the documentation of the greatest threat of our time, the climate catastrophe.
to have / to be
+ / –
I was there / noone came
Do you often think about /
Imagine / Many Lives
take / care
I / O
Present / Tense
It was on the 1st January 2016, during the release of their debut album, Young. Independently of each other, Peter Paul Aufreiter and Johannes Mandorfer sent sound snippets over to Hearts Hearts' singer David Österle. Within the same hour, he'd received an aggressive jazzy piano loop—'Phantom'—and an electronic drum take recorded overseas in 'Island' (the German word for the country of Iceland). Österle frantically began attempting to put these disparate pieces together; to synchronize what was never meant to be unified, and start singing over the results.
Though genre-wise no match at all, the fragments didn't only end up as 'Phantom / Island'—the breathtaking opener to Hearts Hearts' sophomore album Goods / Gods—but the unusual process itself became the aesthetic basis for the entire record. The band's widened approach to disparate musical genres became the key element in the creation of eleven new songs. Hearts Hearts have cracked and evolved their electronic ballads and downbeat pop into something far more sonically expansive and emotionally soulful, driven by higher energy and a growing array of influences.
The chance meetings of unrelated options that inspired the writing and recording process is present throughout the titles of Goods / Gods. The record takes its inspiration from those in between spaces and undefined borderlines in meaning, symbolised by the slash in every title on the album. Hearts Hearts explore emotional and moral ambiguities on Goods / Gods, taking aim at the ineffectiveness of the dichotomies and borderlines that define modern society in the process, preferring to "think in options" as Hämmerle puts it. The group sees the diagonal line of the slash symbol as representing an openness and flexibility in meaning; in similarity as much as difference.
Produced by mastermind Peter Paul Aufreiter, the new record conjures a mix of anguish and ecstasy, whether it's the funky falsetto of 'Sugar / Money', or digital monster ballad 'Do you often think about /'. Taking inspiration from the leftfield pop productions of Bon Iver, Jamie XX, and Son Lux, they skew addictive hooks into drippy song chambers, littering them with lucid samples and cybernetic production licks, conjoining contrasting elements with prisms of electronics and lush acoustic instrumentation.
Lead single 'Phantom / Island' and instant motorik pop classic 'Goods / Gods' '' are the most addictive and high-energy tracks yet from the quartet, blending groovier verses with increasingly majestic choruses. This is ultra-intelligent pop from a band that have found their true voice. Somewhere between happiness and sadness, energy and lethargy, electronica and rock – that's where you'll find Hearts Hearts.
6 month after the release of Young comes this EP, containing three remixes by Austrian electronic musicians. All of them took their favorite track off the record and gave it their own spin, which resulted in very different moods and styles.
Toju Kae stretches the bells that mark the verses of "AAA" even further, vocal loops and sharp hi-hats create a rhythmic fundament for the pumping baseline and a myriad of detailed sounds.
Monophobe speeds up the tempo of "The World Was My Oyster" quite a bit, taking it on an unexpected rollercoaster ride of reduced piano harmonies and maximalist synth-hooks.
Mekoor holds onto the mood of album-closer "If" and transforms it into the perfect after-hour track. Everything spins through different delays and echos, putting the sounds in great distance, held to the present through a pumping bass drum.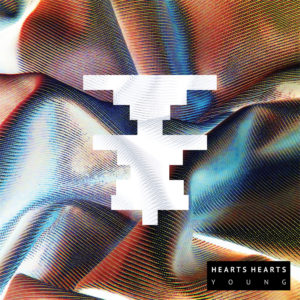 The World Was My Oyster
Bent Pyramid
Potemkinsche Dörfer
Blood Level
Young
Inner Market
If
Perhaps fitting for a band conceived in a monastery in Upper Austria, Hearts Hearts create beautiful, elegiac songs which live at the intersection of classical and contemporary electronic and pop music. Anchored by Österle's voice and as likely to evoke Sigur Ros as Flying Lotus, their debut album Young is an album about experimentation and observation – literate, sophisticated, but vulnerable and warm.
The songs on Young resemble miniature symphonies in their composition and dynamic scope, where surprising choices create a sense of tension and provocation. Tension that is so evident in the icy, melancholy "AAA" which pairs skittery, propulsive odd-time signature beats with long, legato cello lines to form a sweeping, moving aural landscape, or the racing machine heart of the title track "Young" with its mechanical beats straining against Österle's yearning vocals. And the R&B-influenced "I Am In" which shows the band in a moment of reflection, sensual and human.
And this sense of tension and release, is reflected in the lyrics and, indeed, the concept for the album as a whole. «Young deals with the familiar patterns we find ourselves in life, the constrictions that come with that, and most of all, the attempt of breaking through, to temporarily stop going through the motions.» says David Österle, lead singer and writer. «Our lives are so over-defined and over-structured (that) we are measuring and weighing and then cutting off what's undefined. And in reaction to all this, we are seeking spaces of temporary escape.»
Coming a generation after their spiritual forebearers like The Notwist and Radiohead, Hearts Hearts do not so much repeat or pay homage to these artists, but instead build upon them and ask how much has changed in the decade since there and then. Both in terms of the increasingly ritualized and structured world in which most of the West finds itself, and our growing preoccupation and need to escape – and how this shapes the lyrical focus of Young, but also in the evolution of pop music since – the rise and influence of contemporary R&B, electronic dance music, and more recently minimalist classical.
What sets Hearts Hearts apart today is their unadulterated sincerity and vision in the intent and sound – it pulls no punches and the quartet has poured its heart (no pun intended) into ten beautiful, fully realized songs. Young is the sound of a band evolving, but also one that has found something to say.
"Their songwriting is quite impressive and their creativity seems to have no limits. Personal and soulful, Young is a pure enjoyable listening experience."
Music&Riots Magazin | Andreia Alves
"One of the best Austrian debut albums in 2015."
beehype | Lisa Schneider | 2016/03/10
"One of the most arresting debuts in recent years."
Drowned In Sound | Tristan Bath | 2016/02/22
"Hearts Hearts are a unique proposition."
Clash | Robin Murray | 2016/02/05
"Musik, die den Zeitgeist trifft und Texte, die Horizonte erweitern."
Beatcity | Klara | 2016/01/21
"Et pourtant ce disque est vraiment bon, et s'avère une délicieuse surprise venue de nulle part."
Adopteundisque | 2016/01/31
"A voyage through somber pop."
Culture Collide | Rachel Roth | 2016/01/19
"Einer der vielversprechendsten Acts überhaupt."
The Postie | Yannick Philippe | 2016/01/12
"A thoroughly interesting new band."
Subba-Cultcha | David Pearce | 2016/01/14
"Perfecting the craft of balancing warm and cold sonic textures, Austrian quartet Hearts Hearts brings an elegant, methodical construction to their songs."
My Old Kentucky Blog | 2016/01/11
"Young bindet ausgefeiltes Songwriting mit detailveredelter Analogsynthie­Melancholie a la The Notwist in ein großes Album."
Groove | Frank P. Eckert | 2016/01/08
Band des Monats
enemy.at | Markus Schwarz | 2016/01/01
"Hearts Hearts lyckas genom hela albumet få sina låtar att särskilja sig och kännas egna."
Nöjesguiden | Christoffer Reichenberg | 2015/12/11
5/6
GAFFA | Simon Lundberg | 2015/12/04
"Hier reiht sich eine grau-schwarz schimmernde Popschönheit an die nächste."
Falter | Gerhard Stöger | 2015/12/18
"Musik, die zwischen Weltentgrenzung und lässigem Indie changiert."
artistxite | 2015/12/22
"Wunderschön."
music austria | Anne Marie Darok | 2015/12/16
5/5
M94,5 | Gino Thanner | 2015/12/03
FM4 Soundpark Act im Dezember
FM4 | Lisa Schneider | 2015/12/02
Album der Woche
Byte.FM | 2015/11/30
"Eine Verwebung von akustischem Songwritertum und elektronischem Pop, aus dem schon auch ein bisschen die Wehmut tropft."
FM4 | Philipp L'heritier | 2015/10/25
"Kunstpop im besten Sinn."
Die Presse | Thomas Kramar | 2015/10/24